Assuring the existence of pig farmers in South-East Asia
In the pig farming business, healthy and strong piglets form the basis of healthy porkers. This is not just about giving the right, high-quality feeds, but also about carefully planned feed management. Another essential aspect is to inseminate sows with high-quality sperm. That is why we have opened our own sperm station in 2016. This way, we are able to guarantee independence and a bright future for sow farms in South-East Asia.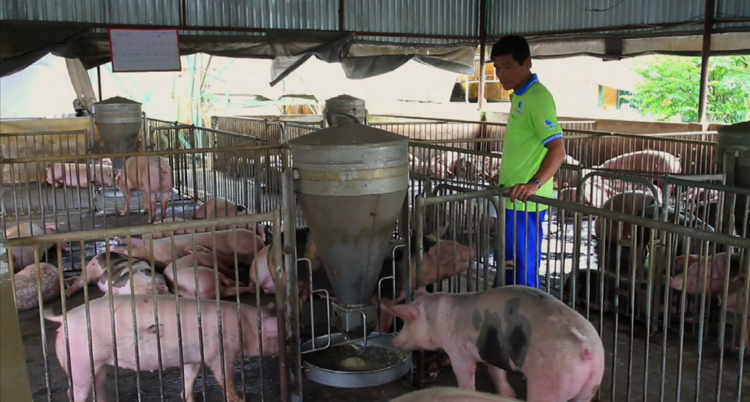 Antibiotics-free pig farming chain in Vietnam
We not only aim to minimise the use of antibiotics in the farming industry in the Netherlands, but all over the world. In Vietnam, for example, we have initiated the SafePork project. In this project, we collaborate with various partners to realise an antibiotics-free pig farming chain. In this context, we are going to build a demo sow farm in the winter of 2016 / 2017. It will be the first Global Gap-certified sow farm in Vietnam - a farm where piglets are bred entirely without the use of antibiotics. Some of these piglets are destined for specially selected pig farmers who will fatten them up without the use of antibiotics. These pig farmers are to receive special training in our demo sow farm. After this, their own companies can apply for the VietGap certification themselves. The whole process will be set up in such a way that safe pork can simply be traced, from the consumer back to the farm it originated from.
Improved social position for broiler farmers in Myanmar
Thanks to the support of various chain partners and a subsidy from the Dutch government, we were able to set up our own hatchery, with multiple breeder farms, in Myanmar. We closely collaborated with Belgabroed. Thanks to this project, the required day old chicks also came within reach of independent poultry farmers. Moreover, around 2,500 corn farmers were trained to improve the quality of their crops and improve their productivity. We collect this corn and make it available to some 250 broiler farmers across Myanmar. In 3 training centres, they learn about the development of feed strategies for their broilers that include corn and other nutritional products. They also learn about the latest insights regarding poultry farming and stable and animal management. All this has contributed to higher productivity, reduced cost prices, and improved accessibility of poultry products for the people of Myanmar. Thereby helping local independent broiler farmers to become successful.
More initiatives we take to make a valuable contribution to local society