Developing a self-sufficient food chain and fostering rural communities in Ghana through layer farming
As an entrepreneurial company, De Heus strongly believes that independent entrepreneurship of farmers is the engine of local economies. We believe in maintaining the vitality of rural communities. To help achieve this, local business units collaborate with supply chain partners to support rural farmers so they can strengthen and improve their business operations. This in turn benefits local communities and helps countries become more self-sufficient in terms of food supply, particularly in developing nations. In Ghana, the vast majority of laying hens are imported, resulting in high egg prices. De Heus has formed a pioneering joint venture with Kuipers Breeders to produce layer chicks locally. This will not only support the country in developing its own independent food supply, it will also help provide the local population with an affordable and nutritious source of protein. We talk to Jurjën Kuipers of Kuipers Breeders and Theo Smalbraak, Business Group Director Africa & Middle East, De Heus, about how the partnership developed, what they plan to achieve and their long-term ambitions.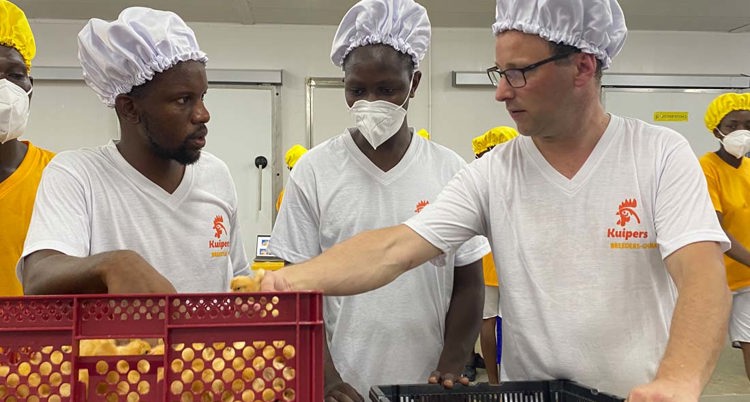 Huge market potential
"My family's farming company has been a customer of De Heus for many years," says Jurjën. "After studying livestock farming and international trade, I worked at De Heus for two years identifying new markets." One of those new markets was Ghana, which has very fertile soil, a good climate for food production and a small agricultural sector with huge potential for growth. As a result, after he left De Heus to become a farmer, Jurjën set up a business importing day-old layers in Ghana. Around this time, his former employer decided to build a compound feed factory in Tema, Ghana. "Without high-quality feed, it's difficult for farmers to develop a healthy business and the market itself can't grow," says Theo. For Jurjën, a local feed factory was a godsend. "It's too risky to rely on imported feed and it's almost impossible for me or local farmers to make it," he adds. "So a local feed factory is essential."
"Covid-19 highlighted the need for local production of layer chicks. We needed to make it happen quickly."
Covid-19 accelerates plans
The imminent arrival of the De Heus feed factory also allowed Jurjën to develop his plans to produce day-old chicks instead of importing them. "If you lack readily available, good-quality feed, breeding parent stock just isn't feasible," he explains. "As a result, egg farmers are dependent on imported day-old layers. These birds are expensive and the quality often leaves a lot to be desired." Kuipers Breeders and De Heus Ghana therefore decided to jointly set up a hatchery to produce layers locally. Then the Covid-19 pandemic struck. "We were still importing day-old chicks but with no flights coming into Ghana, production of layers and eggs stopped," says Jurjën. "I was really worried about the availability of food in the country." Theo adds: "Covid-19 highlighted the need for local production of layer chicks. We needed to make it happen quickly."
European-style hatchery
The new hatchery is located on a 90-hectare site currently consisting of one rearing farm and three production farms, all constructed and managed according to EU standards. Breeders are imported from Europe and spend their first 16 weeks in the rearing farm. After this, they are transferred to one of the production farms. The rearing farm is then thoroughly cleaned and the whole process starts again with a new flock every 18 weeks. In the production farm, breeders lay their eggs and the layer chicks that hatch are sold to farmers at one day old. One breeder can produce about 100 layer chicks, so one pallet of breeders saves importing 100 pallets of day-old layers. This also reduces carbon emissions from air transport. "Our first batch of layer eggs will go into incubators in late March 2023 and the first layer chicks will be born three weeks later," says Jurjën."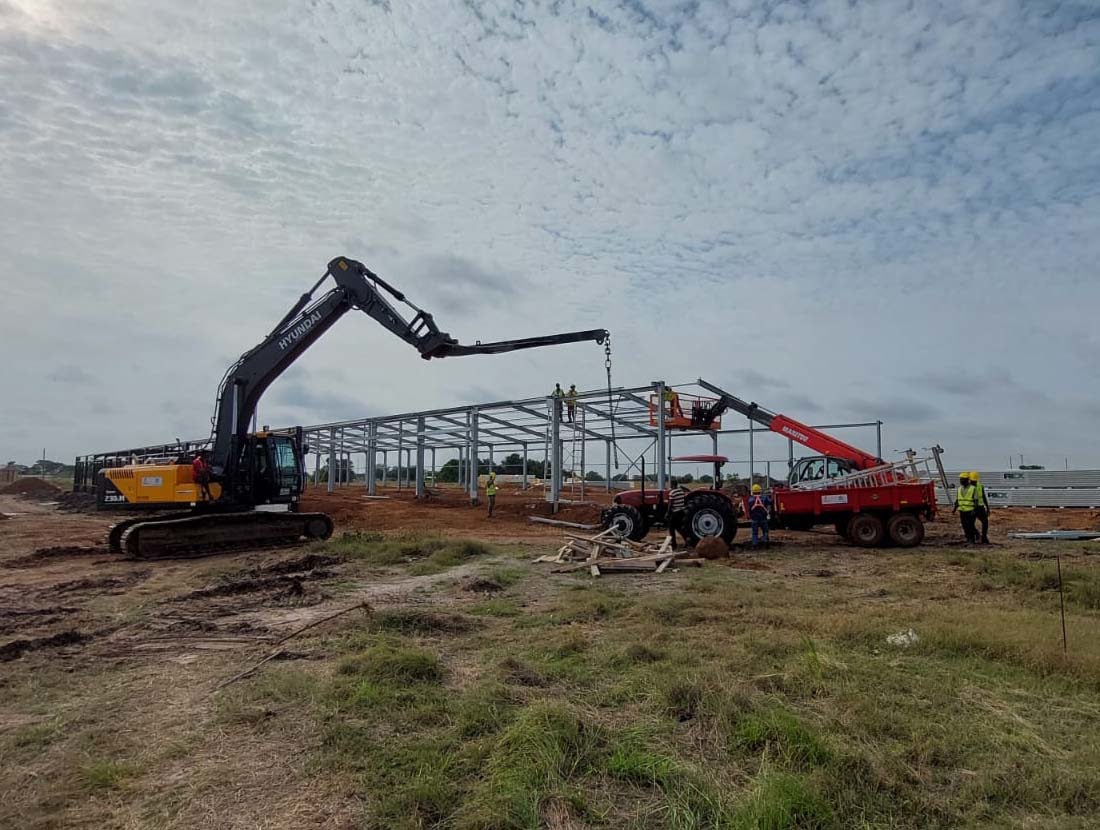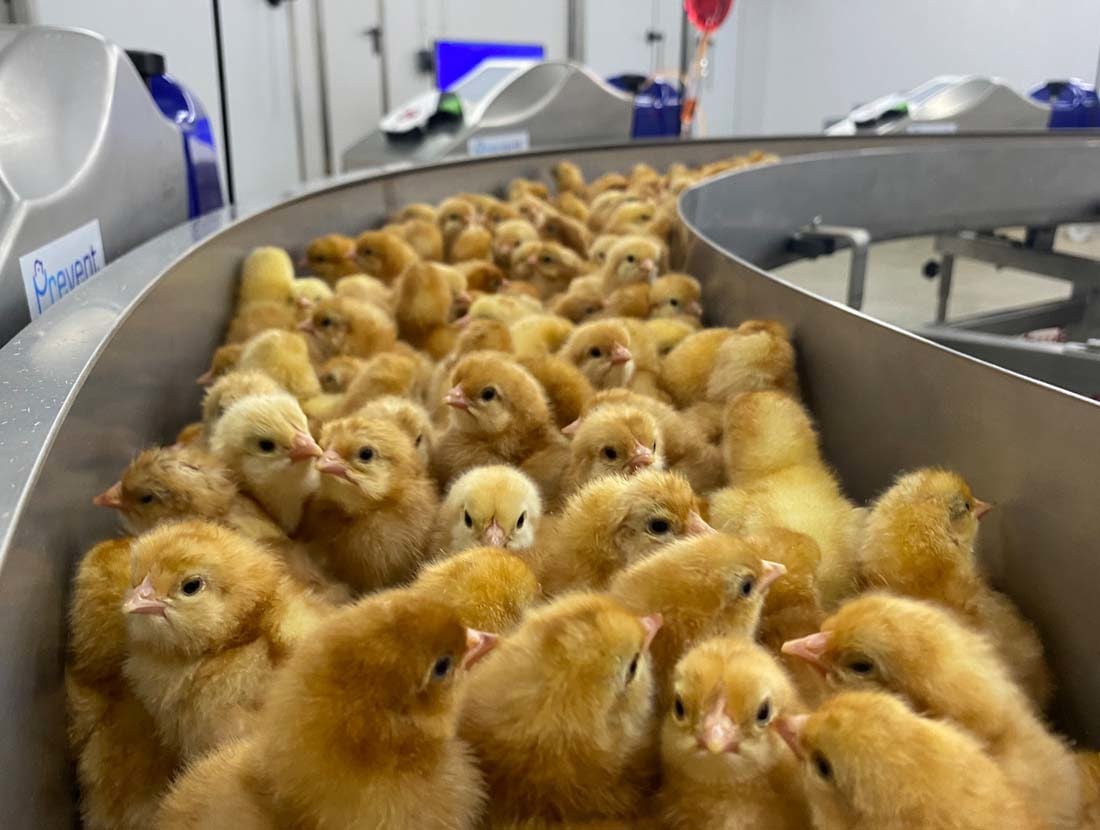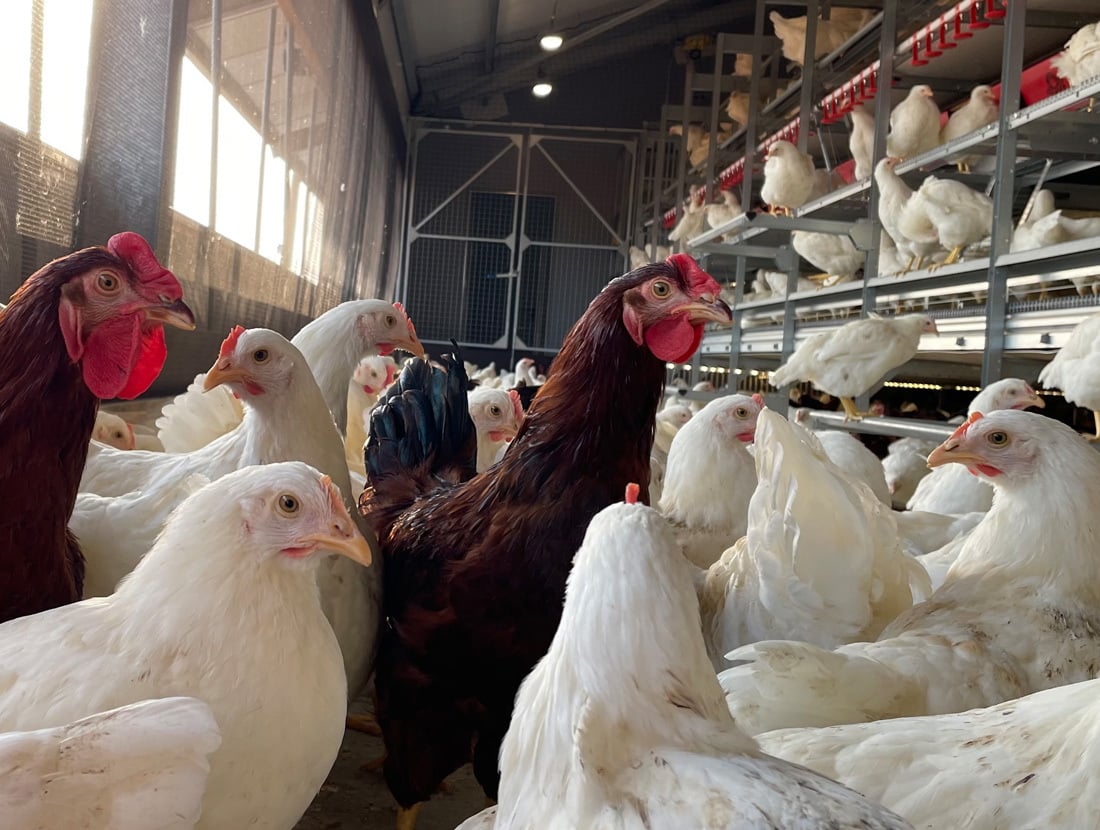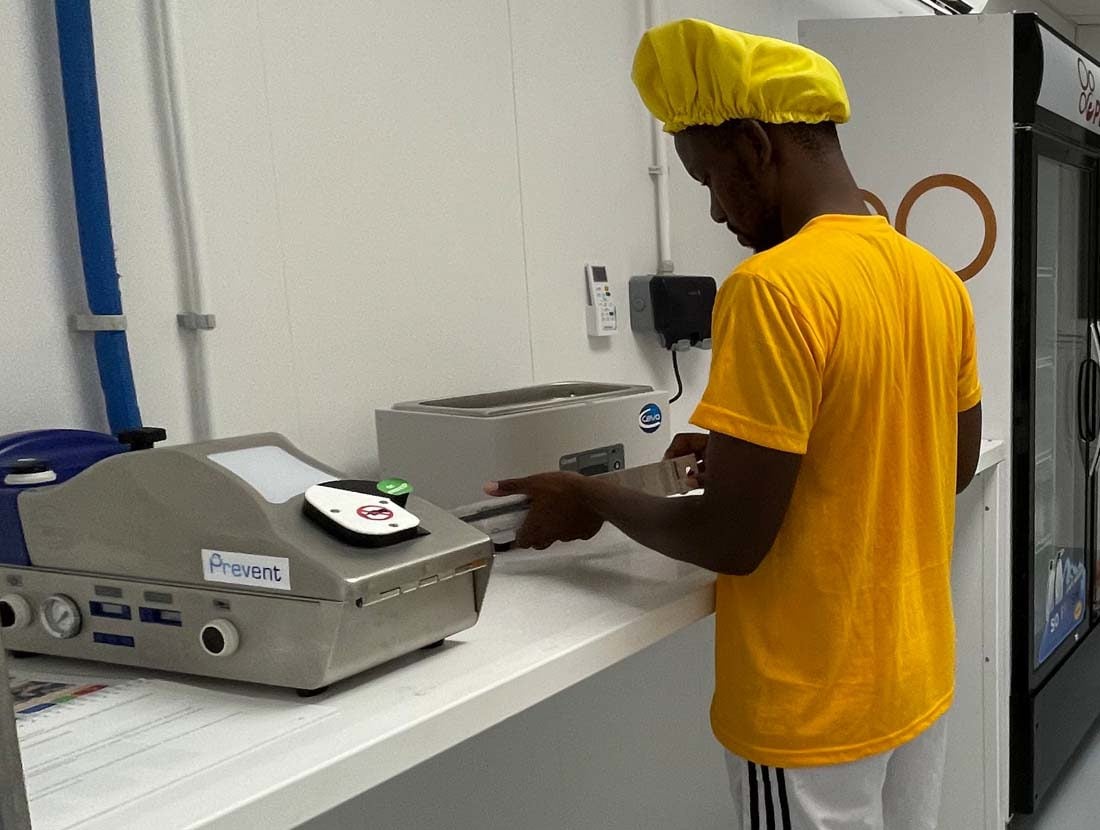 Working together towards the same goal
This volume is needed in order for the business to be sustainable. "You have to do it on a large scale," explains Jurjën. "In the Netherlands, you can set up a hatchery and find a vet, a water quality specialist, a biosecurity advisor, a transport supplier and other services, but in Ghana you have to do it all yourself." He receives support with this from the local De Heus business unit. "Jurjën brings his farming experience and knowledge about West Africa to the partnership," says Theo. "De Heus provides expertise related to finance and how to do business between the Netherlands and Ghana." The two organisations' sales teams work together as well. "We both have the same goal: to help local farmers improve their incomes and develop Ghana's agricultural sector" continues Theo. "Both companies are very practical and hands-on, and work together to make it happen."
"We're not just selling feed and chicks, we're helping them achieve better yields and healthier laying hens."
Improving productivity
It's this knowledge that will help farmers improve their operations and increase their productivity. "We're not just selling feed and chicks, we're helping them achieve better yields and healthier laying hens," says Theo. "No other European or US player is doing this in Ghana." In the short term, farmers will have to live with high animal feed costs due to a shortage of locally produced raw materials. However, in the same way it's promoting home-grown layer chicks, De Heus Ghana is working with WARC, a West African social enterprise, to encourage rural farmers to grow corn for use in local feed production. "We can't lower the cost price of feed, but we can help farmers increase production and this will grow the whole layer sector," says Jurjën. "More production will mean increased margin to reinvest, encouraging more farmers to become egg producers, leading to a drop in the price of eggs for consumers."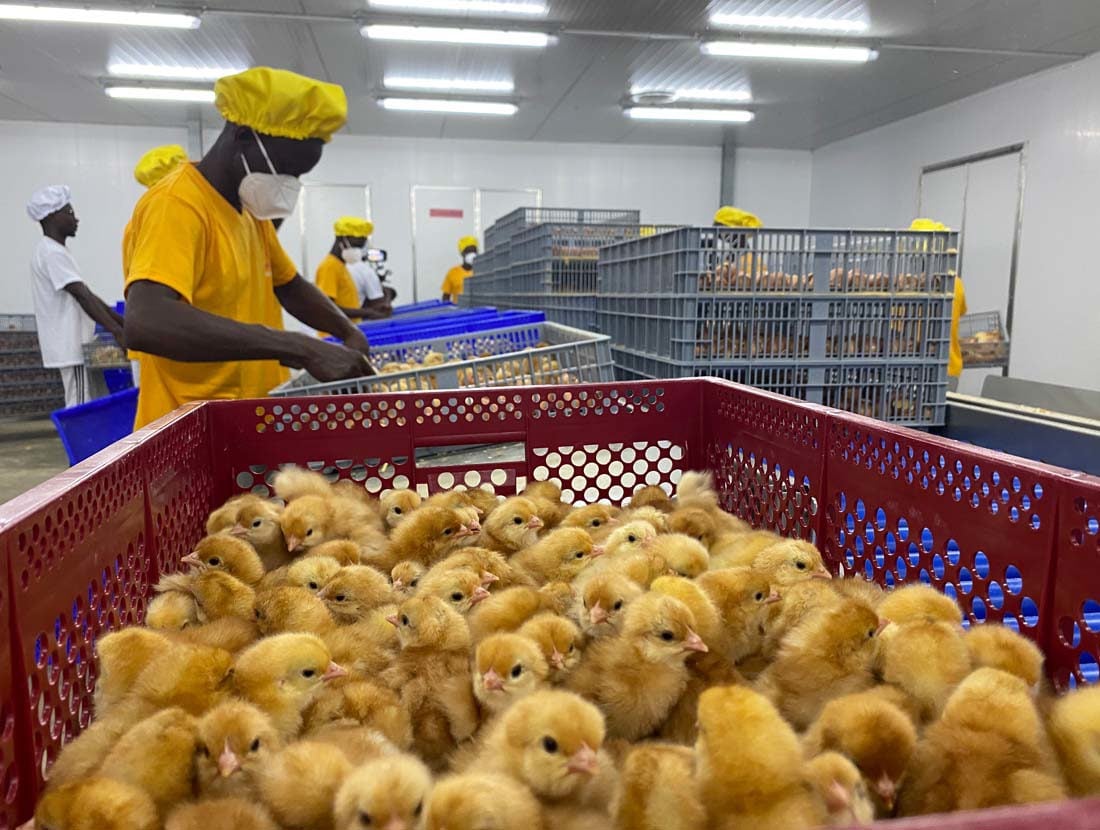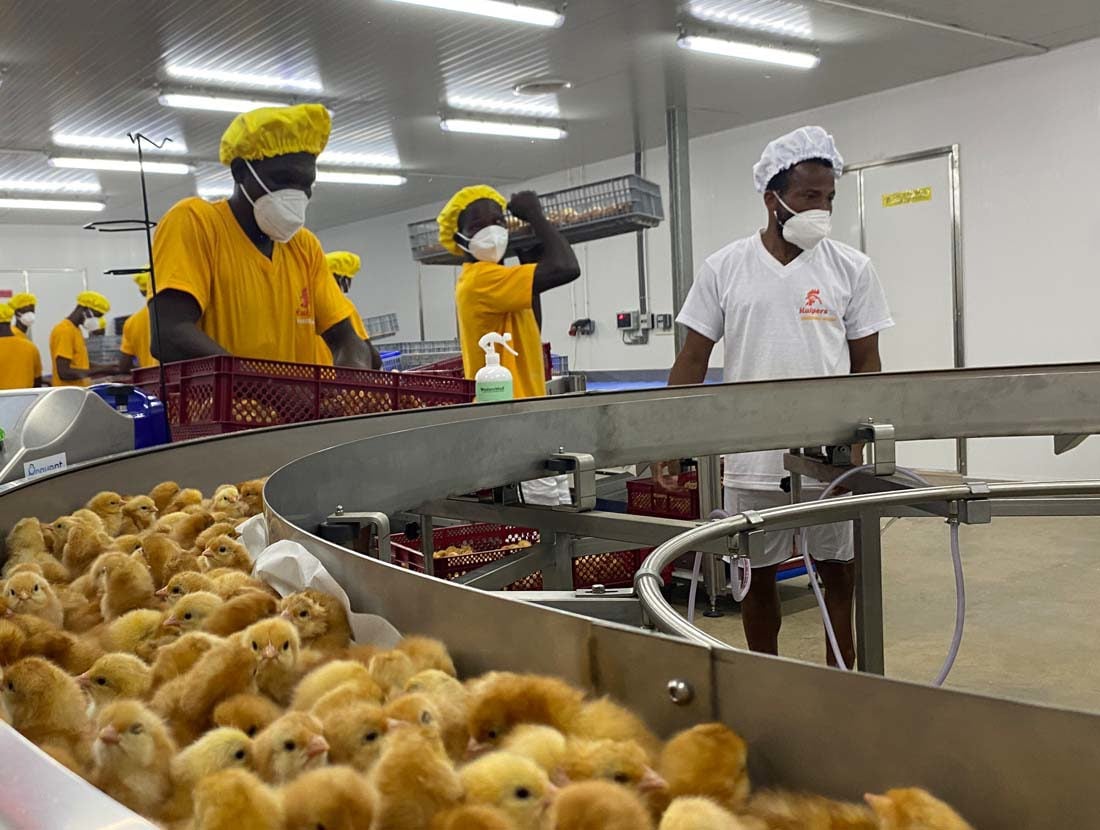 Healthier human diets
Due to inflation, the price of food in Ghana is currently amongst the highest in Sub-Saharan Africa and so any reduction in cost will have an impact on people's diets. "There's a shortage of affordable, high-quality protein in Ghana," explains Theo. Meat is too expensive for most people and it also requires refrigeration for proper storage. "Eggs are easy to store and the best source of protein," continues Theo. "If we can ensure an inexpensive supply of protein, it will lead to healthier and more varied diets in Ghana."
Developing rural communities
Improving farmers' productivity and livelihoods will also have a snowball effect on local communities. "Farmers in Ghana mainly live in villages where unemployment is high and there's little education," Jurjën explains. "If we can help farmers grow their business, this will create jobs, and people will be able to buy food, send their children to school and pay for healthcare." Theo agrees: "Farming is crucial to solving unemployment in rural areas. Replacing imported feed and food with local production will create many jobs."
Export and expansion
Even though the joint venture's operations are still in the early stages, Theo and Jurjën have ambitious plans for the future. They want to export to neighbouring countries like Togo, Benin and Ivory Coast. In the longer term, they also aim to rear broiler chicks. "About 90% of chicken meat in Ghana is imported frozen from the EU and Brazil," says Theo. "We want to help farmers produce broilers so they can compete with the import market and food can become less expensive." Luckily, the infrastructure for broiler production is almost the same as that of layer chicks which will give the partnership a head start. But first they need to create a regular, sustainable supply of layer chicks. "The business results are yet to come, but the first signs are positive," says Theo. "If we can help farmers get better incomes, we can lift the whole agricultural sector in Ghana and make this economy stronger and less dependent on imports."
Our Responsible Feeding approach in practise