Helping employees thrive through effective programmes for safety, health and well-being
At De Heus, we believe that we can only give our customers the best support if our employees are healthy and able to collaborate in a safe, nurturing workplace. By taking care of their physical and mental well-being, we can help our people function at their best in both their private and work lives. To achieve this, we offer a safe and inspiring work environment, promote a healthy lifestyle and encourage our employees to develop themselves. In Poland, the company's commitment to outstanding employership is demonstrated by the Top Employer certification awarded to De Heus Poland in 2023. We talk to Aleksandra Frankiewicz, Director Human Relations at De Heus Poland, and Wichard Bieze, Global Director Human Resources, about the programmes that help give employees a healthy work-life balance and how they reflect De Heus' global HR policy.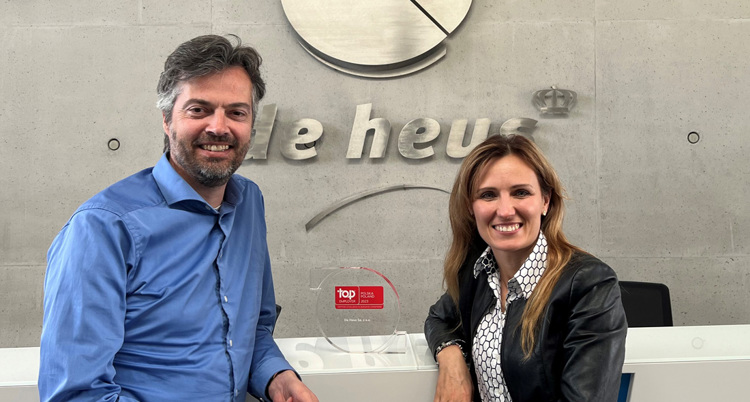 Family values
"As a family company, De Heus thinks in terms of generations and long-term relationships, so it's natural for us to focus on people's safety, health and well-being," says Wichard. "We spend a good part of our lives together, so working at De Heus goes beyond being paid for the hours you work. There's true involvement with each other." This involvement includes safeguarding employees' health and well-being so they can handle life's challenges, maximise their talents and contribute to a growing company. "We want people to feel comfortable working for the company so we foster open communication, team spirit, a winning mentality and mutual trust," says Aleksandra. "We also want them to develop professionally so learning and development is a cornerstone of our strategy."
"We want people to feel comfortable working for the company so we foster open communication, team spirit, a winning mentality and mutual trust."
Safety standards and practices
De Heus Poland received the Top Employer certification after an external audit of practices in six domains covering key HR themes. "We have programmes across all these themes," says Aleksandra. "We offer attractive compensation packages and have talent development programmes for different groups: sales, production, management and leaders in key positions."
In addition to remuneration and training, safety is a major priority and there are standards and practices for every process in production and administration. These measures ensure safe working conditions in the company's plants and offices, and help minimise accidents. "We have monthly meetings with plant managers to discuss health and safety and learn from our experiences," Aleksandra continues. "We also provide online health and safety training." The company also provides safety data sheets and machine audits so people operate equipment correctly. "Our people and their families can trust that they'll get home safely after a day with us," adds Wichard.
Health and fitness programmes
In addition to safety, De Heus also addresses the physical and mental health of employees. "Since 2013, we've offered cards with special discounts for local gyms and other fitness programmes," explains Aleksandra. "In partnership with a well-being solution provider, we also have a mobile app which provides information about mental health and even specialist help if necessary." More recently, Aleksandra and her team have developed a mental health programme including a series of webinars about stress and how to prevent burnout. "Post-pandemic conditions, the war in Ukraine and the cost-of-living crisis are leading to increased stress, lack of self-confidence and depression." says Aleksandra. "People in Poland aren't comfortable discussing mental health, particularly in a business context, so it's important to educate people so they don't ignore symptoms."
Encouraging employee engagement
This kind of open communication is a key component of De Heus' global HR strategy because it helps increase employee engagement. "In Poland, we organise monthly online meetings led by a business unit manager for all employees in which we discuss the current situation at the company including financial results, the status of targets and general information about what's going on," says Aleksandra. "People really appreciate this because it's direct regular contact with the general director and they really feel involved." This communication also works both ways. "We organise periodic surveys using online tools to check employees' opinions on certain topics," says Aleksandra. In addition to encouraging local feedback, De Heus also conducts a regular global employee engagement survey. "As well as facilitating discussion between local managers and employees, the global survey helped us gain the Top Employer certification," says Wichard.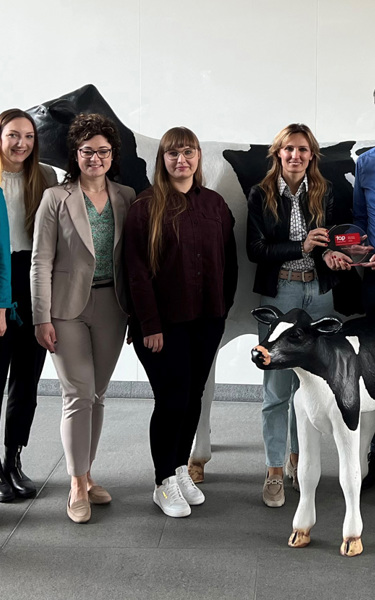 Community projects
Engagement with local communities is another important pillar of De Heus' approach to HR. "Our close involvement with one another extends to our employees' families and the people and communities around them," says Wichard. In Poland, this takes the form of Corporate Social Responsibility initiatives aimed at supporting local projects outside of the company. "Every year we ask employees to submit proposals about local projects they would like to support," says Aleksandra. "We select a few of these and encourage employees to be actively involved." In recent years, De Heus Poland has supported the building of a local playground, renovated a school sports hall and organised a picnic and bike rides for children along with basic training about cows, pigs and poultry. "At Christmas we prepared gifts for children in hospital and employees went to the hospital dressed as Santa Claus," adds Aleksandra. "It's great that our people want to share something and support people in our local communities." Poland is also seeing a large influx of refugees from Ukraine and this has touched the hearts of Aleksandra's colleagues. "We have set up a special working group to support people and colleagues in Ukraine," she explains. "We've bought provisions like helmets, medicine and even trucks."
Sharing expertise
As a mature business unit whose employee programmes have been audited and approved as part of the Top Employer certification, De Heus Poland acts as a role model for younger business units in other countries. "It's part of our corporate culture to share best practice," says Aleksandra. "We've had some training sessions with De Heus Serbia on quality, lean management and systems optimisation." De Heus Brazil is also interested in the Top Employer certification so the Polish HR team is sharing its expertise with them too. "Poland is like an older sibling helping the younger sibling," says Wichard. "It's part of being a family company."
Inspiring each other
Although De Heus Poland is ready to offer advice to overseas colleagues, other business units are free to apply it as they see fit, according to their own local circumstances. "It's important that we don't dictate a one-size-fits-all solution," says Wichard. "By sharing best practices and inspiring each other in a non-compulsory way, we create a culture of openness and transparency." In this way, the global HR team can trust that local business units want to succeed and will be open to learning from others.
"It's important that we don't dictate a one-size-fits-all solution."
Global facilitation, local activation
This bottom-up approach, with local ownership and entrepreneurship, is one of De Heus' strengths. "Our business units have a lot of autonomy in terms of how they do business, but that also comes with a lot of responsibility, particularly in terms of employee safety, health and well-being," says Wichard. "We start with non-negotiable measures, like personal protection equipment and accountability for the safety and welfare of staff, which we have to enforce regardless of regional conditions. Then there are situations, like the covid-19 pandemic, which affect regions differently and involve different legislation per country. These require a more tailored approach." Another example is the increasing trend towards working from home. This may be popular in the Netherlands, but it is less accepted in countries with a more in-office culture. "As a global HR team, we want to make sure that the programmes and tools we develop are anchored in the needs of the local business and its employees," says Wichard. "That means co-creating traineeships, learning and development programmes, bonus programmes and other initiatives, and ensuring that they're relevant to the business units we serve."
Our Responsible Feeding approach in practise