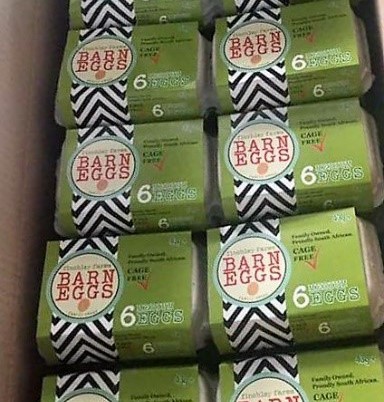 A crisis in the South African broiler industry
Over the past few years the impact of poultry imports, drought and high feed prices have created a crisis in the South African broiler industry.  In mid-2016, The Holts decided that it was time for a change before things got to the point where they could no longer financially continue to farm.  With their passion for poultry firmly in their minds they started to consider the various options available to them that would allow them to be able to use their existing facilities and their highly experienced work force. After a number of weeks of thinking, researching and debating they decided to consider producing table eggs.  With the housing that they had, it would have been a fairly simple task to install layer cages and to produce eggs in the same way that most other egg producers do. Their research, however, highlighted the changes in consumer and retailer expectations in many countries around the world with regard to the way that eggs should be produced and by taking a long view on what this meant for South Africa they decided that this provided an opportunity for them to produce cage free eggs in a barn system.
A new challenge
Producing eggs from hens laying on the floor has its challenges, but Rowan was confident that with the many years of experience that he and his staff had in rearing broiler breeders, they would be able to meet these challenges and make a success of it. Brett van den Broeck, owner of Dorna Distributors, was contracted to make the necessary modifications to the houses starting with the rearing house. Dr Chris Henderson and his team from C4 Africa veterinary consultants were asked to provide the veterinary support and De Heus was asked to provide the nutritional support. Towards the end of the year Rowan went over to the Netherlands, together with Bryan Mills from De Heus, to learn as much as he could from operations that were already producing Barn Eggs successfully. The trip was a great success and he returned full of confidence having made a number of important contacts and picked up a few important tips.
New goals
With great excitement, the first batch of 15 000 Hyline Brown chicks arrived on the farm on the 22 November and were placed on the floor in the rearing house. There were two main goals with this flock. Firstly, to successfully rear them to the required body weight at point-of-lay and secondly to rear a laying hen that would have a good laying persistency through to at least 85 weeks of age. Both goals required that the pullets had to be reared correctly to achieve good frame development, body weight growth and reproductive organ development.  Rowan understood that taking any short cuts at this stage would have a significant effect on the ability of the hens to achieve a good peak production and a good laying persistency.
Correct diets
The chicks started off on a specifically formulated pre-starter diet in the form of a mini-pellet, followed by a starter crumble, a grower mash and finally, a developer mash for the last 6 weeks. During rear the body weights of the pullets remained on or above the target weight and at point-of-lay (18 weeks) they averaged 1 590 g with a CV of 7% and a mortality rate of 1.2%.  Body weights were on target but slightly lower than Rowan had been aiming for. The reason for this was identified to be a slight growth check when the pullets moved over to the laying house.
During the 16th week the pullets were transferred to the laying house and they acclimatised very well to their new surroundings. They remained on the developer for the first week and then went on to a pre-Layer mash for two weeks, followed by a pre-peak mash designed to meet their requirements for body weight gain and egg production up to 30 weeks of age. At the time of writing this flock was 24 weeks of age and was up to above 90% production. There are two more flocks of pullets on the ground, one of 12 weeks of age and the other of 1 week and both are looking very good. 
Marketing of eggs
Rowan and Sharron have begun the task of marketing the eggs and they have been receiving much interest from individual consumers as well as hotels and restaurants. They have started to supply the Spar in Nottingham Road and they were very pleased to see that all the stock was sold within the first two days of being put on the shelves.
There is still a long road ahead for Finchley Farms Barn Eggs as it is never easy being the first to do things differently from the norm.  It is very exciting for De Heus to be a part of this journey and we are confident that many other producers will follow their example.
For further information on Finchley Farm Barn Eggs go to http://www.finchleybarneggs.co.za  or contact Rowan on 079 493 6785 or by e-mail at rowan@finchleybarneggs.co.za