Calf rearing made successfull
Since 2013, the De Heus Kaliber ® Calf Rearing Programme has been successfully applied by Daan Landman, Lactimar Pty Ltd, in the Eersterivier (Eastern Cape) district. Lactimar's dairy herds are milked at three stables: Jersey cows on the farm at Eersterivier, the Friesian herd on the farm Bergsig and crosses and Jerseys on the farm Hoffmansbosch. The milk cows calve on several farms, and these calves enter the Kaliber programmes. The rearing programme regards the calves as a mixed herd and treat the different species equally.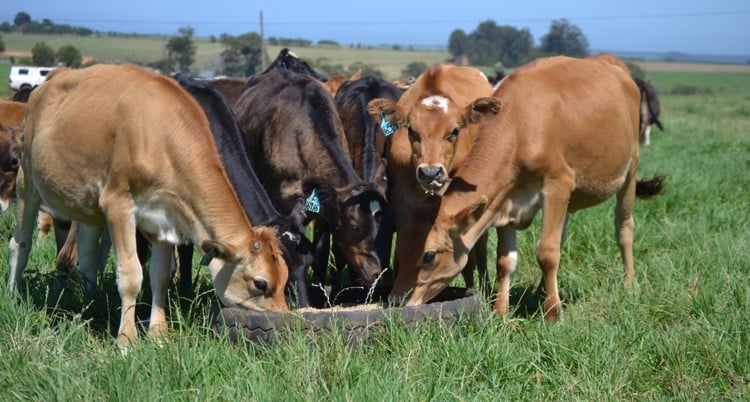 The Kaliber® Calf Rearing Programme focuses on the following objectives:
rearing calves in a healthy and economical way to calf at 24 months of age
ensuring good frame growth and development of the calf without allowing any excess fat deposition, so a balanced weight, height and size with a visible topline, good spring of ribs and dry udder tissue is achieved
good rumen development to use a maximum amount of roughage
a calf in 85 - 90% of adult mass may calf
Lactimar's calf rearing programme:
A portion of the farm Bergsig is reserved for raising and preparation of replacement heifers. The project is led by Roan Nel, the farm manager of Lactimar. The calves are with their mothers for 2 - 3 days to ensure adequate colostrum intake. Then they are placed in calf housing. The calf housing was first made operational at the end of 2016. They previously used traditional calf pens on pasture.
The calf housing has brought several advantages for Lactimar, namely:
seasonal changes in temperature and weather conditions can now be better regulated with the new housing system
the housing promotes better growth of 5 - 8 kg heavier calves between species during weaning. Heifers in the housing system showed better daily growth, with the result that expected target weights can be achieved more quickly compared to the old open pens system
feed intake is better controlled and the feed stays fresh by using a self-feeder system that ensures ad lib intake at all times
This form of calf housing is not without specific management aspects and the following precautions in calf housing are of utmost importance:
hygiene and water quality is vital
calf pens must be sprayed clean every morning
calf pens are disinfected twice a week, after being cleaned
calves are removed out of theses pens while they are disinfected
To fully utilize the housing, as well as the professional rearing system, such as Lactimar intends to put into operation with 1 500 heifers in 2017, a good feeding system must also be put into place to achieve best results. For this purpose, Lactimar is already using De Heus's Kaliber® Calf Rearing Programme for maximum efficiency.
The programme consists of four phases and Lactimar implements each of the following phases at Bergsig:
Start Phase (0 - 5 months)
The calf housing consists of 4 houses with 10 pens each containing 5 calves, in other words, the housing can contain 200 calves. In the pens calves receive 2 litres of milk in the morning and 2 litres of milk in the evening. There is always fresh water available for the calves in the calf housing. De Heus's Kaliber® Starter pellets are available on an ad lib basis in self-feeders. The calves do not receive additional lucerne or roughage. The calves remain in the calf housing until they are approximately two months of age.
Calves that must be moved out of the pens before the age of 2 months to the grazing areas are placed in camps in groups of 10. The calves receive milk from a 210 litre blue plastic drum with 12 teats. De Heus's Kaliber® Starter pellets are supplied to them at 1 kg/calf /day. The older calves receive De Heus's Kaliber® Starter pellets at 2 kg/calf/day. There is always fresh water available in the camps. The calves are weaned at 2 – 2,5 months of age on the basis of their age and intake and they are also dehorned. The calves are then weaned and placed into groups of 80 – 100, and receive 2,5 kg De Heus Kaliber® Starter pellets on Kikuyu/Rye grass pastures.
Young phase (5 - 8 months)
At the age of ± 5 months the calves are placed in larger groups of about 150 to 200 calves in a group. In this age group the calves receive De Heus' Kaliber® Junior pellets while on Kikuyu/Rye grass pastures. There is always fresh water available in the camps. The calves remain on the system until 8 months of age.
Puberty stage (8 - 15 months)
The age group 8 -12 months receive a De Heus product developed specifically for their circumstances at 1 – 1,2 kg/calf/day while on Kikuyu/Rye grass pastures.
The calves are placed in an AI group from the age of 12 months and receive ± 90 -120 g De Heus RumiLick® Rainfos P9 meal. The different species are covered at the following weights with enough feed on hand: Friezes 320 kg, crosses 270 kg and Jerseys 240 kg. The different species are ready for covering between 12 - 15 months. All groups are inseminated with Jersey semen to ensure easy calving. In this phase the main focus is that the animals do not become overweight as it could have a long-term negative effect on production.
Gestation phase (15 - 24 months)
During the gestation phase the pregnancies are maintained by keeping the feed constant and of a good quality. The heifers of all species calve around the age of ± 25 months. There are heifers that are grown on De Heus feed and are now beginning to calf after 24 months. This is already pointing out some of the benefits that lie in having a balanced calf rearing system in place.
Roan Nel said that by using De Heus's Kaliber® Calf Rearing Programme they have well-grown calves and no unnecessary fat deposition taking place. The calves start to eat pellets at an early age due to the fact that rumen development has taken place at an early age. The calves have developed a good frame due to following of the Kaliber® Calf Rearing Programme. The heifers are divided into groups and are placed in several groups according to their average growth groups.
Daan Landman and Roan Nel make a formidable team when it comes to raising their heifers. They were both very pleased with the growth they obtained with their calves using De Heus products. Lactimar follows the Kaliber® Calf Rearing Programme strictly with good success. De Heus is proud to be involved with such a professional team.