Milking goats - a niche market on every level
Manufacturers like Belnori Boutique Cheesery produce specialty cheese products that make heads turn on the world markets. At the world championships organized by The Guild of Fine Foods they have already received one Super Gold "World Cheese Award" and two Golden Awards. This is truly excellent. Other dairy farms such as Karoo Goats Milk Products are leading progress in the industry in terms of development and management, for example, with the implementation of dairy housing for the winter months and the development of the largest dairy breeder units imaginable. People drive long distances to buy these niche products.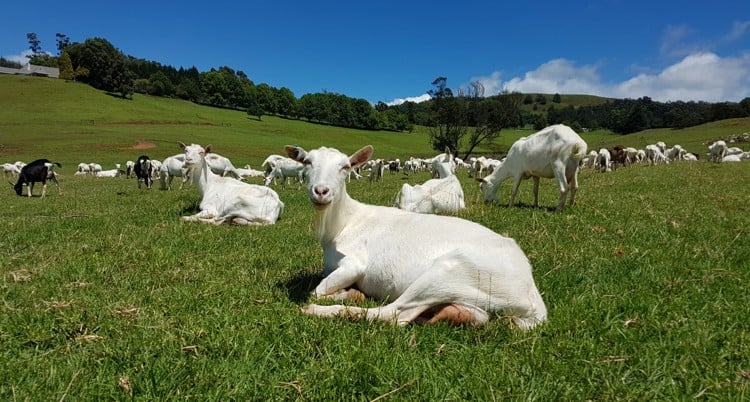 In order to maintain this niche market that was created for the dairy goats, there is also a need for special nutrition. Although there are several similarities between a dairy cow and a dairy goat, there are differences that need to be taken into account in terms of management and nutrition and of how management and nutrition relate to each other. This leads to the fact that feed for these animals becomes a specialist area. From the generation of young goats, through to lactation, as well as the feeding of dry animals are considered. De Heus International's exposure to the dairy goat industry has already shown a massive impact in terms of nutrition and management. Good interaction between local dairy goat farmers and De Heus regarding the available knowledge and the farmers' practical experience of progress can create success stories quickly.
Jan Wiese of Karoo Goats Milk Products says: "Together with De Heus we go to places we have not been to before and cooperation between us can only be good for our industry."
Rina and Norman of Belnori Boutique Cheesery says: "We used De Heus feed for the lambs for the first time this year. The difference in growth and condition is obvious and remarkable. We are more than satisfied."
Entrepreneurship and passion are the two components that ensure success. De Heus is excited about the new developments in the dairy goat industry and they are spending great effort and taking care to become a part of this.