Success with RumiGrow FLC 100
As published in Stockfarm – April 2017   The aim of the feedlot is to achieve maximum margin over feed costs, to round off the animals in the shortest possible time and to get an optimum carcass grading.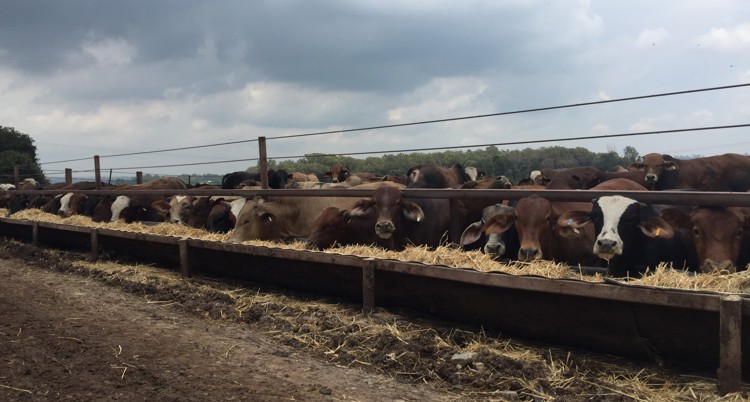 To achieve this, the following factors are crucial to the profitability and viability of a cattle feedlot:
feed conversion ratio (measured intake)
dressing percentage
average daily gain (ADG)
period of feeding
The initial weight, type of animal, as well as the growth potential of the animal is of great importance here. The adaptation of weaners on a high grain diet also has a great influence on the performance of the animal during this period. Rumen organisms take 10 - 15 days to adjust from a grass diet to a grain-based diet. Adaptation is necessary in order to protect the rumen wall.
In order to get good results in the feedlot the following factors are most important:
adequate feeding space
feedlot surface area
access to cool fresh water
absence of diseases and parasites
feeding management and number of feeding sessions per day
stress and climate
These are all important factors that must be managed
RumiGrow FLC100
(V24949) is a protein concentrate for ruminants which mixed at a 10% inclusion of grains and other raw materials for initial, growth and fattening in feedlots.
Test data:
During a farm trial at Wohlfahrt Feedlot in Magaliesburg De Heus
RumiGrow FLC100 was
measured against a control group. A mixture of
RumiGrow FLC100
Hominy Chop, molasses meal and maize harvest rests was formulated and showed the best margin over feed costs.
The purpose of the test was to determine various profit determinants. There were 150 bull calves in each test bead is held for 110 days.
What is ultimately important is margin over feed costs. In this experiment, the margin over feed costs with
RumiGrow® FLC100
, was R 250 / animal better than in the control group. The biggest determining factor for the feed conversion ratio (FCR), was that the animals on the De Heus ration only ate 4,90 kg to pick up one kilogram of body weight. To measure FCR, intake should be measured - which is not always very practical. However, if the difference in income is so large, we cannot afford not to measure FCR. De Heus focuses on helping customers by evaluating each customer's profitability, and with that helping them to increase their profit. Profitability between customers is never the same because of constant changes and input costs. De Heus has a product and a plan for every scenario. By making use of De Heus's technical advice and optimization programmes, maximum margins can be achieved.