Successful approach to piglet farming at De Heus experimental farm
Piglet rearing at the De Heus 'De Elsenpas' Centre for Practical Research has proved very successful. The specific approach and strict hygiene protocols produce excellent results: many weaned piglets per sow, good weaning weights, low loss rate and high feed intake averaging 700 grams per piglet in the farrowing stable. According to farm manager Zias Lukasse, the experimental farm is therefore one of the frontrunners in the pig farming sector.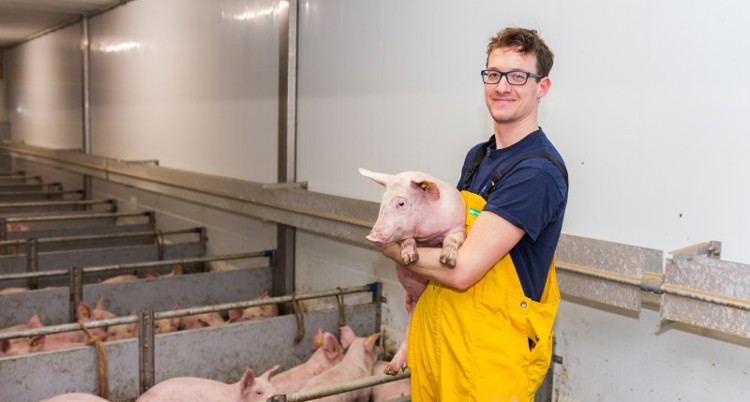 Towards the top in the Netherlands
'With 14 weaned piglets per sow, an average weaning weight of over 8 kg and a loss rate of approximately 6%, we are moving towards the top in the Netherlands,' says Lukasse. 'For a starting farm like ours, that is a very satisfactory result.'
Pregnant sows feeding regimen
Teaching piglets how to eat and drink and stimulating feed intake are key to De Heus' approach to piglet rearing. However, things start even earlier. 'A sophisticated feeding regimen for pregnant sows tailored to the individual animal is another precondition for the successful growth of piglets during the lactation period.' Farm manager Lukasse aims for a 1.3 kg birth weight. 'The heavier the piglet, the better it performs in the farrowing stable, and therefore later as a fattening pig.'
Early feed intake
It all starts with stimulating feed intake as soon as possible. During the sow's lactation period, the piglet is guided step by step from sow's milk to dry feed. The feeding regimen starts on the third day with feed based on milk products. This stimulates feed intake and potentially additional growth. After 14 days, the diet changes to feed containing more plant-based components. This feed stimulates intake, but also teaches the intestines to digest plant-based raw materials. 'So, at the time of weaning, the piglets are used to eating dry feed and the intestines have learned to digest plant-based materials. These are two important conditions for an optimal weaning process.'
Besides the feeding regimen and providing premium-quality feed, other factors affect feed intake too. Lukasse: 'Providing fresh feed in a clean trough throughout the day is vitally important. The piglets need to have easy access to the feed in the trough, so there must be enough eating places. At our farm, we use round feed troughs and position them close to the sow's head. Accessibility is a key factor for effective feed intake.'
How to ensure your piglets get the best possible start
The Romelko approach involves combining well-balanced luxurious feeds with regular ones. Our technical advisors will help you with a tailored advice based on your situation.