Johan Styger - Stud Breeder of the year
Mr Johan Styger, owner of BTB Simmentalers in Klerksdorp, is South Africa's Breeder of the Year for 2016. He received this special award at the annual Aldam-beef school. This is an annual competition hosted by Pick n Pay, Landbouweekblad and Breedplan. Johan achieved 3rd and 2nd places respectively in 2014 and 2015.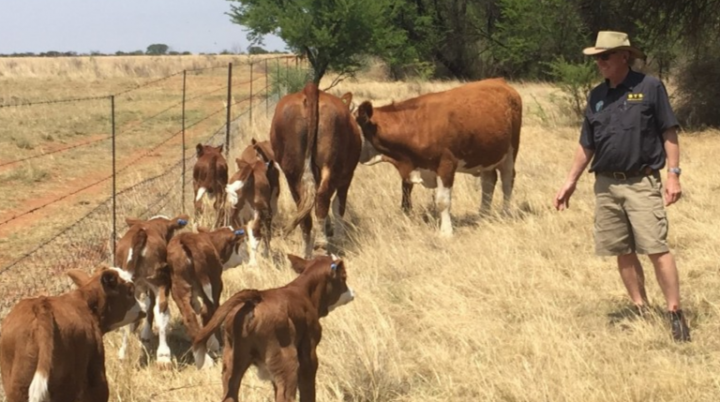 John, a consulting engineer from Klerksdorp and part-time farmer has been a breeder since 1986. He started the BTB Simmentaler stud in 2004. The premise of his business is that genetic progress is measured by the profit from genetics. He uses a 'self-replacing feedlot index' (SRFI) developed by Breedplan. It is an economic index that links economic values ​​to estimated breeding value. To explain this, he uses the example that there is a positive correlation between birth weight and weaning weight at 200 days. A higher weaning weight has a positive economic value, but once they are selected for heavier birth weight, calving problems are more general, which has a negative economic value. The SRFI weighs the various values ​​and expresses it as a single economic value. This enables the bull buyer to easily see the financial impact that the bull will have in the herd.
Johan believes that the success of the stud is based on three aspects:
Pasture Management
The farm Schoemansfontein, consists of 1 019 hectares, of which half is rested for a year and the other half is semi-intensively grazed by his 180 cows.
Fertility
Selection is strictly based on fertility. If the cow does not produce a calf she is culled. Through the leveraging of a rigorous selection technique, sub-fertile animals are identified more easily and disposed of. "Days to calving" as a genetic criterion is used to promote genetic fertility. This is a fertility index unrelated to the environment. This allows him to determine the fertile co lines. Mr Styger boasts with an inter-calving period (ICP) of only 318 days, which is very close to the theoretical minimum. The ICP cannot be much shorter because the heifers calve three weeks before the cows and are given more time to be covered. To promote genetic improvement, about 25% replacement heifers are included in the flock and his bulls are used from an early age.
Performance
This Simmentaler herd is one of only two herds in South Africa which has a four-star rating for completeness of performance. The award is given by Breedplan for herds that meet their record keeping requirements. By making use of the economic selection indexes, more successful genetic improvement takes place.
Johan has been using De Heus products since May 2016. He uses De Heus products to grow out his bulls and the heifers receive 1kg RumiLick Accelerator lick per day on pivot point grazing. He also started to use De Heus's winterlicks on winter pastures. He is very satisfied with the quality and uniformity of the products and experiences less problems with high lick intake than with that of his previous winter licks. He also noted that the pastures are better digested and utilized.
The future plans for BTB Simmentalers is to improve two standard deviations according to SRFI which would place him in the top 2% of the breed's genetics.
De Heus would like to wish Johan continued success in all his future endeavours.