Our people
Innocent Delani Mathonsi - Shift Supervisor at De Heus South Africa
On November 19, 2023, Innocent Delani Mathonsi, better known as Dee to his coworkers, will celebrate his 20-year Long Service Award for dedicated service to De Heus. Innocent commenced work at the Umlaas Mill in Kwa-Zulu Natal, South Africa. In 2003, he initially started as a pellet operator for 18 months before receiving training to become a raw material operator. He subsequently earned a promotion to the role of shift supervisor, which he has held for the past 17 years, in addition to completing a Supervisory Development Diploma through the Durban University of Technology.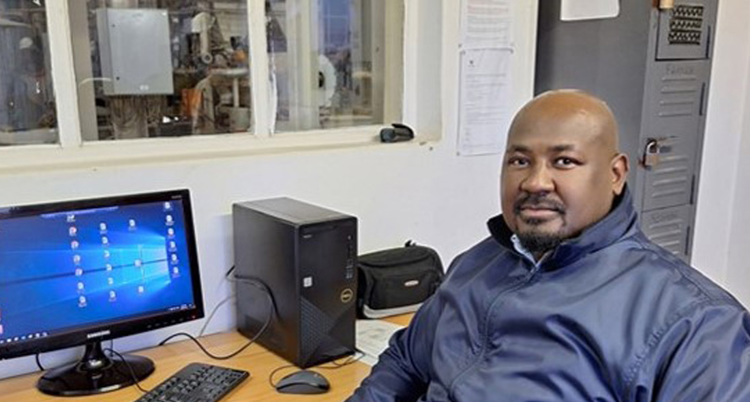 Get to know Innocent
Innocent describes himself as a friendly but somewhat shy person who relishes conversation and helping others. He is known for being hardworking and possessing a contagious laugh that can brighten any room. According to Innocent, his two children consider him the best.
Repairing equipment and working with people
Innocent chose this job because of his interest in the animal feed manufacturing field and his enjoyment of working with people. He also takes pleasure in repairing equipment to ensure the mill can produce feed efficiently. Innocent's promotion to shift supervisor was a result of his significant impact and achievements, transitioning from the raw material controller role to the shift supervisor, who reports to the plant manager. Currently, 14 employees work under Innocent's supervision, and all on-site personnel report to the shift supervisor during off-hours.
A day in the life of a shift supervisor
As a shift supervisor, Innocent plays an active role in ensuring the mill's smooth operation. He only uses a computer when necessary to record feed orders on the production system and complete reports and time sheets. Otherwise, he actively works in the mill to ensure timely order production and the overall efficiency of the mill. As a shift supervisor, Innocent works either day or night shifts. He expresses a preference for night shifts, as there are fewer changes in orders compared to day shifts, where production changes are more frequent.
What makes working for De Heus enjoyable?
Innocent chuckled, stating that it's a pleasure to wake up in the morning and know he's heading to work at De Heus. He emphasized that if he didn't enjoy his job, he wouldn't have dedicated 20 years to it. According to Innocent, his colleagues are friendly and easy to work with, making it a pleasure to work for a company like De Heus. The Umlaas Mill, where Innocent works, has grown significantly from when he first started, with 12 trucks and expanded operations, which he considers a positive development.
It is all about family
"The sense of family among my coworkers and the strong relationships I have built during my years of service is wat I appreciate most. I appreciate the fact that my colleagues consider each other like family, which is evident when I am on leave and keep receiving calls asking when I am coming back."
Project Innocent is proud of
Innocent pointed to the hammer mill project as a source of pride without hesitation. Initially, the Umlaas Mill had only one hammer mill, and changing screens caused a production downtime of up to 45 minutes. To address this issue, a second hammer mill was added, reducing the downtime to just 60 seconds while increasing the company's production capacity. This improvement was essential for optimizing the mill's grinding capacity.