Ruminants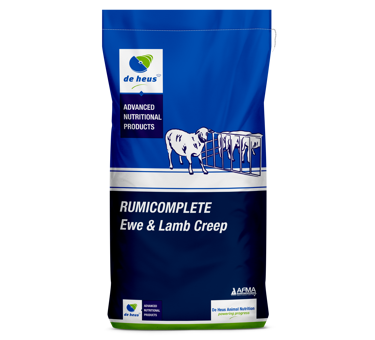 RumiComplete Ewe & Lamb Creep
RumiComplete Ewe & Lamb Creep - V24945
RumiComplete Ewe & Lamb Creep is a complete feed designed to support ewes during lambing. It helps ewes with udder development, milk production and the forming of egg-cells postpartum. It is the ideal product for use in a lambing pen system. This product is also a creep feed for lambs and can be fed to lambs from two weeks of age while feeding the same product to ewes
Optimal complete lambing feed

Creep feed for lambs from day 1

Ewe & lambs fed one ration pre- and post partum

Suited for Lambing pens

Most cost effective feed
---
More Product Related Info:
FEEDING INSTRUCTIONS:
Feed to ewe from six weeks before lambing @ 300g/day, and until six weeks after lambing @ 400 – 500g/day. When fed in lambing pens, ewes should be adapted to the consumption of 1kg/day over three days, and then fed ad-lib. with an expected consumption of 1,5kg/day. Lambs can be fed ad-lib. with an expected intake of 20-150g/day.
WARNINGS:
This product contains medicaments and should not be fed to horses. Read the medication label for more information.This product contain NPN sources – read the NPN warnings before using the product
NUTRIENTS: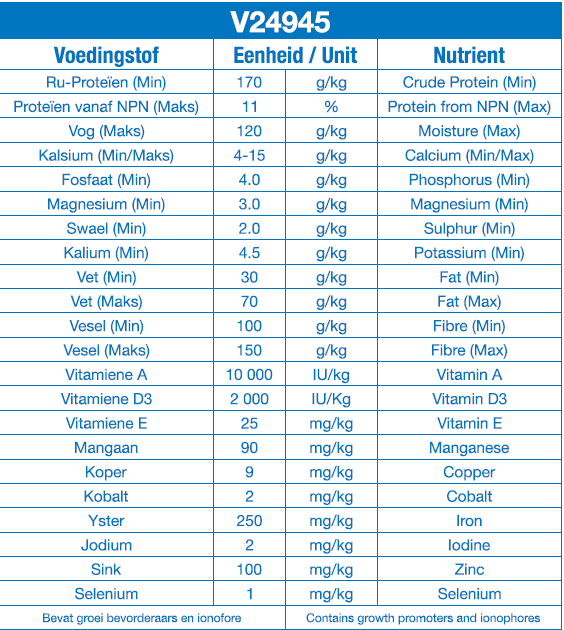 Download Brochure
Together with our ruminant specialist
Our ruminant specialists are proactive, have an entrepreneurial mentality and always look for improvements and a higher return for your company. These core values combined with our on-the-farm approach, a broad range of feeds and services, and our practical concepts ensure you with the right advice, the best result and the highest balance on your farm.
More products for Ruminants