Ruminants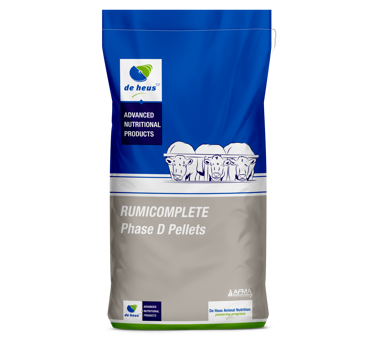 RumiComplete Phase D Pellets
RumiComplete Phase D Pellets - V28653
RumiComplete Phase D Pellets is a complete feed used in Phase D tests for stud animals and veld bull clubs. This product has been developed to be used while grazing lower quality grazing post weaning (winter), or in a confined area (feedlot). When Phase D-testing is performed on good quality grazing, RumiLick Accelerator would rather be recommended.
Phase D testing ration for cattle

Can be fed limited or as a complete feed

Pellets reduce waste

Freeflowing in self feeder systems

Optimal development for reproduction
---
More Product Related Info:
FEEDING INSTRUCTIONS:
Phase D Pellets are fed starting at 1,5-2,5 kg/animal/day on grazing, depending on the quality of the grazing and the targered growth rate. This product can also be fed ad lib on very poor grazing as well as in confined areas (feedlots), after a period of adaptation.
Follow an adaptation programme before animals are fed completely - see enclosed label.
WARNINGS:
This product contains medicaments and should not be fed to horses. Read the medication label for more information. This product contains NPN sources. Read the NPN warnings before using the product.
NUTRIENTS: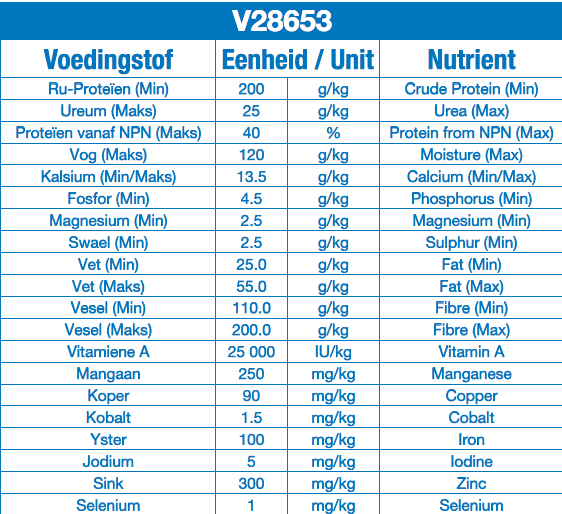 Download Brochure
Together with our ruminant specialist
Our ruminant specialists are proactive, have an entrepreneurial mentality and always look for improvements and a higher return for your company. These core values combined with our on the farm approach and broad range of dairy feeds and services and our practical concepts ensure you with the right advice, the best result and the highest balance on your farm.
More products for Ruminants