Ruminants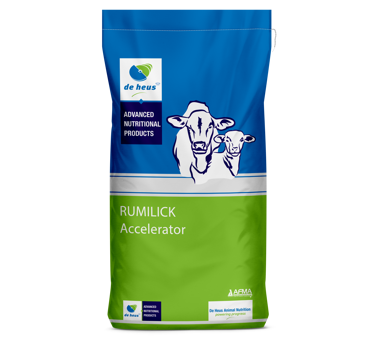 RumiLick Accelerator
RumiLick Accelerator - V24940
RumiLick Accelerator is a production lick fed to growing calves and lambs post weaning on good quality pasture, to achieve maximum growth at minimal cost. This product focuses on carcass development rather than fat deposition which make it the ideal product to use in rearing stud animals and in extensive growth clubs. It is also an excellent product to use for backgrounding in a cost effective way, on animals that are underweight for feedlot feeding
Supplement for Growing breeding stock post weaning on good quality roughage

Reach ideal mating weight cost effectively

Develop carcass and frame

Great backgrounding product

Can be used as a creep feed for calves
---
More Product Related Info:
FEEDING INSTRUCTIONS:
No adaption period is required. Feed animals ad lib on good qualtiy pasture / grazing with free access to clean water. Feed daily, if possible
WARNINGS:
This product contains medicaments and should not be fed to horses. Read the medication label for more information.This product contain NPN sources – read the NPN warnings before using the product.
NUTRIENTS:
Download Brochure
Together with our ruminant specialist
Our ruminant specialists are proactive, have an entrepreneurial mentality and always look for improvements and a higher return for your company. These core values combined with our on the farm approach and broad range of dairy feeds and services and our practical concepts ensure you with the right advice, the best result and the highest balance on your farm.

More products for Ruminants