Swine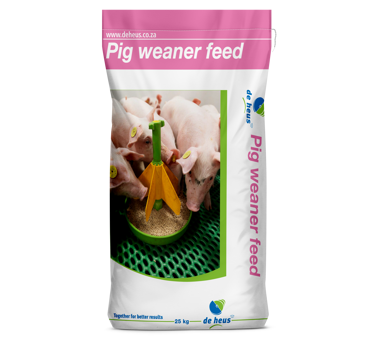 Velocity Weaners
Velocity Weaners-V24590
A complete pig weaner feed specifically developed to meet the nutrient requirements of young pigs to ensure a smooth transition after the creep phase and into the grower phase. Special attention has been paid to optimising gut health through the use of highly digestible raw materials organic acids. Feed intakes are encouraged by crumbling the feed and the inclusion of a sweetener and a flavourant.
Complete Full Feed

Supporting Gut Health & Development

Specially Formulated to support the Creep Feed

Stimulating Intakes & Gut Health Maintenance

Setup for Maximum Performance during Growing Phase

Use is made of highly digestible rawmaterials

Fed Adlib from 35-42 days

Formulated using highly digestible raw materials
---
More Product Related Info:
FEEDING INSTRUCTIONS:
Feed ad lib after weaning from 35 – 42 days of age by blending initially with the creep diet. Feed until 70 to 84 days of age. Fresh feed and water must be available at all times. To ensure optimum growth there should be sufficient feeder space per pig. Feeders must always be kept clean and water must be available at all times.
RECOMMENDED INTAKE:
30 kg per pig from 42 - 70 days of age days after weaning.
NUTRIENTS: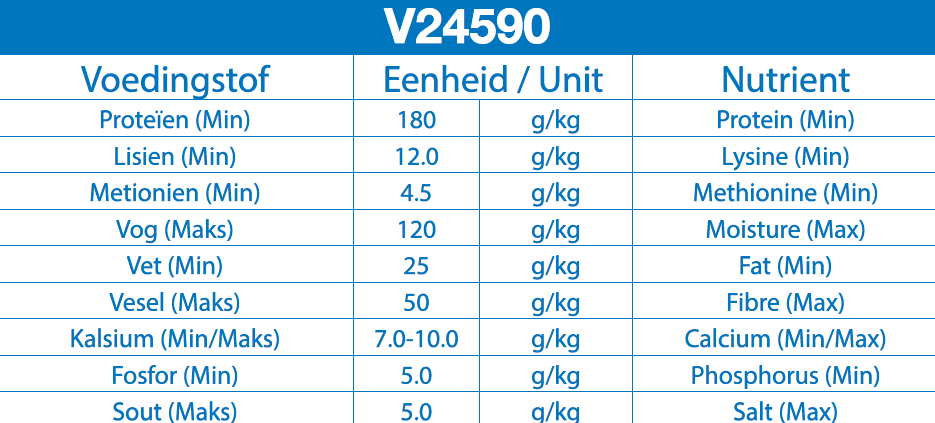 Download Brochure
Together with our swine specialist
Our swine specialists are proactive, have an entrepreneurial mentality and always look for improvements and a higher return for your company. These core values combined with our on the farm approach and broad range of dairy feeds and services and our practical concepts ensure you with the right advice, the best result and the highest balance on your farm.

More products for Swine